Ingredients:
2 cups blanched almond flour
½ teaspoon sea salt
2 tablespoons coconut oil
2 table spoons agave nectar
1 tablespoon vanilla extract
1 tablespoon water
1 egg
Raspberry jam/preserves for filling
Directions:
In a bowl, mix the almond flour and salt together.
In another bowl, combine oil, agave, vanilla, water, and an egg (to hold the ingredients together).
Now pour the wet ingredients into dry and combine.
Chill the dough in refrigerator for an hour.
Preheat the oven for 350°
Roll the dough out between two pieces of parchment paper approximately ¼ - ½ inch thick.
This avoids the need for white flour to keep from sticking.
Cut dough into circles - whichever size you prefer.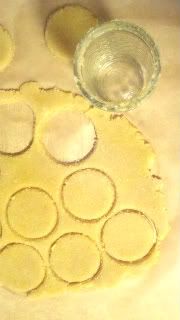 Make a light indentation with your finger in each circle for the raspberry filling.
Now drop ½ teaspoon of raspberry jam/preserves into the indentations.
To create the triangular shape: fold the dough in and pinch the corners to create 3 sides.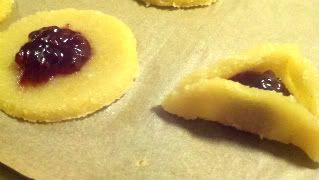 Bake for 8 minutes until cookies are golden brown around the edges.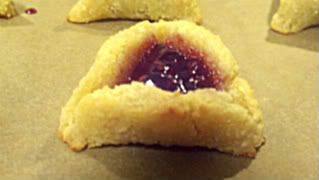 Enjoy!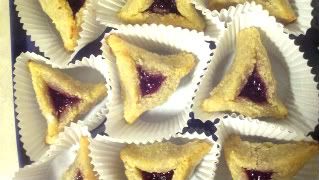 Here are my Raspberry Pouches ready to share with a friend for work today. These are so light and delicious. Yum!
What is your favorite recipe or remake of a recipe?
Krista