I was inspired to bake yesterday after visiting
Elana'sPantry
. She has several amazing gluten free recipes. Gluten free is friendly for
Primal/Paleo
because you use almond or coconut flour to replace white flour. Elana also avoids the refined sugars (white/brown sugar at the grocery store) and use more raw natural sugars (honey/agave nectar). So far, I have made her
brownies
and now her
White Chocolate Chip Cookies
as a base to create a new version: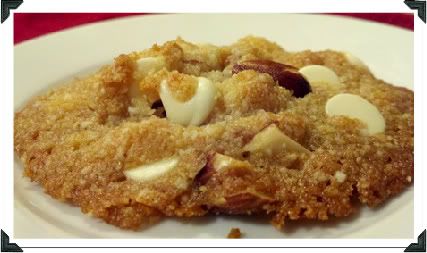 Ingredients:
2 ½ cups almond flour
½ teaspoon sea salt
½ teaspoon baking soda
½ cup coconut oil
1 tablespoon vanilla extract
½ cup agave nectar
2/3 cup white chocolate chips
1/3 cup sliced almonds
Directions:
2.
Combine the dry ingredients together in a medium bowl
3.
Mix the wet ingredients together in a small bowl
4.
Stir the wet ingredients into the dry
5.
Fold in the white chocolate and almonds
6.
Form ½ inch balls and place on parchment paper lined baking sheet
7.
Place cookie sheet on middle oven rack for 7-8 minutes
Yield: 20-24 cookies
These not only make your home smell like warm vanilla and roasted almonds, but they taste delicious too! I was surprised at the sweet and salty combination – the sweet white chocolate perfectly balances the roasted almonds and sea salt in the recipe.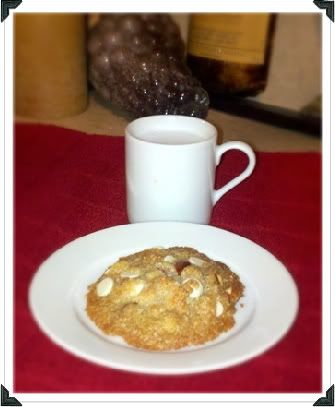 The only thing I would modify for next time is to add an egg. These cookies were a little crumbly, which may be due to my use of Bob's Red Mill almond flour (Elana doesn't use the brand as it can make some of her recipes runny/grainy, though I didn't have that problem). The addition of an egg would help hold these together better.
I happily ate two of these last night and the scale read 137.6lbs this morning so they are definitely low carb! I'm just under what I weighed before the road trip to Ohio. The real challenge will be this weekend when I go to Galena with my Mom for her birthday….surrounded by delicious treats, rich food, and exotic alcohol and coffee.
Wish me luck and will power!
Krista