Every Friday I'll post some dinners that I've made throughout the week so you can see how delicious and easy it is to live the Primal Lifestyle.
Savory Shrimp Salad
I just threw this together with what I had in my refrigerator. Broil the shrimp for 3-4 minutes (so tender) in butter, garlic, white wine, and a spritz of fresh lemon juice. You can eat it right out of the pan, serve with veggies, or throw it on a salad. Simple and tasty – that's how I do.
Primal Burger Goodness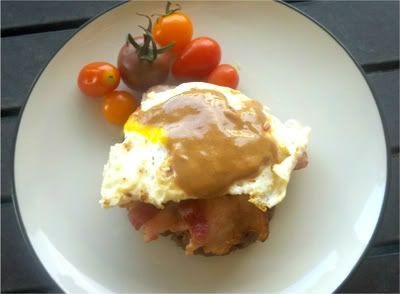 If you haven't ever had a burger topped with an egg, bacon, and almond butter then you are missing out on an amazing combination. I first tried it at a burger joint, brought it home, and haven't eaten a burger any other way since.
Just make your standard patty (with whatever meat you want and seasonings), grill, and serve with an over easy egg, bacon, and almond butter....YUM!
This is on the menu for tonight. I've marinated it over night and now I just need to make the pesto then sear off the pork.
Apparently, I eat lots of tomatoes...
Krista